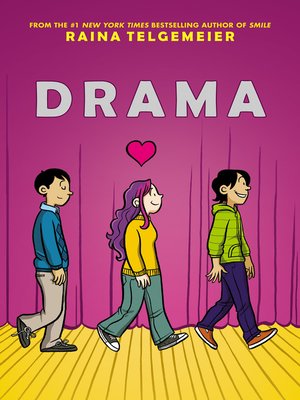 Required Author
Telgemeier, R. (2012). Drama. First edition. New York: Graphix/Scholastic.
Summary:
Callie loves the theater, even if she can't sing well enough to perform in her beloved musicals like the middle school's production of Moon over Mississippi. Instead she's the set designer for the drama department's stage crew, and this year she's determined to create a set worthy of Broadway. But when drama and romance—both onstage and off—cause problems, Callie finds that set design may be the easiest part of putting on a play. Callie is likable, hardworking, and enthusiastic, but she is as confused about relationships and love as any young teen, and she flits from crush to crush in a believable fashion. In this realistic and sympathetic story, feelings and thoughts leap off the page, revealing Telgemeier's keen eye for young teen life.
Commentary and Text Connections:
Drama is short, but Raina Telgemeier packs so much into it this graphic novel that is suitable for students grades 6-9. There's new love, confused love, best friends, guy friends, and even some self-discovery. And while the story focuses mainly on Callie, readers really get a feel for all the other characters and delve into their personal issues as well. In addressing issues such as homosexuality, Drama is more teen oriented than Telgemeier's other work. Her deceptively simple art may seem cartoonish, but it is grounded in a firm sense of style to give the story an open, welcoming feel.
Connections:
Book Club Discussion Questions